Brainboxes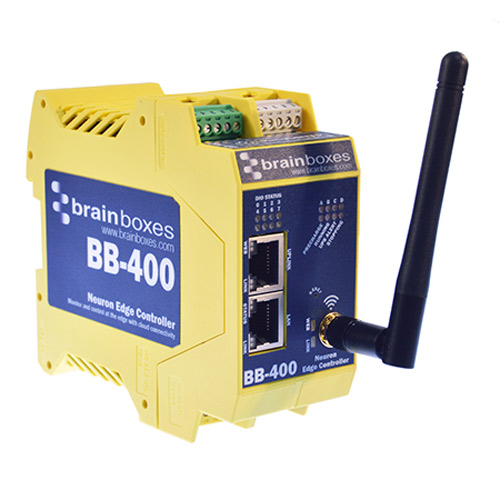 Brainboxes Neuron Industrial Edge Controller 8 x I/O & Serial Port
Combining industrial hardware connections with the processing power of a Raspberry Pi Compute Module 3+ the BB-400 Industrial Edge Controller gives you the possibilities of open source software. Ideal for retrofitting existing equipment or building into a new panel.

The BB-400 Industrial Edge Controller combines Brainboxes proven IO and serial connectivity with a range of network connections to allow data to flow to the application of your choice. The innovative design uses a Raspberry Pi Compute module and an Arduino to provide edge processing. The Pi is supported by a power management system, including a UPS, making it match the robust demands of industry. This allows you to develop on Raspberry Pi and deploy seamlessly to the factory floor.

Multiple hardware interfaces allow for communication with many different types of equipment and machinery. Use Ethernet, Bluetooth, IO, Wi-Fi, NFC, USB, RS232/422/485 to interface with many different types of device from the compact BB-400. This is a true Industrial Raspberry Pi.

The device offers the flexibility of PC systems with open source API programming options to make integration and customisation user friendly. Combining insights from machinery of all types and ages can be done through a preferred programming language, such as C# and Python or visually in Node-RED, circumventing many of the interoperability issues that have traditionally hampered integrated automation. Support for most industry standard protocols such as MQTT, OPC-UA, REST, Modbus.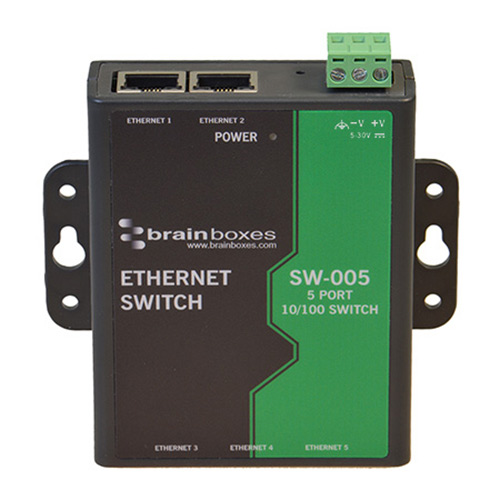 Brainboxes Industrial Unmanaged Ethernet Switch 5 Port Wall Mountable
Light Industrial/Commercial Ethernet 5 Port unmanaged switch.


Galvanically Isolated Ports. Power supply with wide voltage range means it can be powered from USB or on the 24V factory floor. Power terminal is removable with for easy wiring. Power consumption is optimised based on the status of the link device. No software required. Ideal for factory floor, in vehicle and marine applications. Wall mountable using mounting screw holes, optional DIN Rail mount accessory available (see MK-048).
To see prices and order this product, please Log In or Call us on 01276 405 300